COLUSCA / Cite, longe, tarde: Ich spür ain Tier!
(Leider nur auf Englisch verfügbar)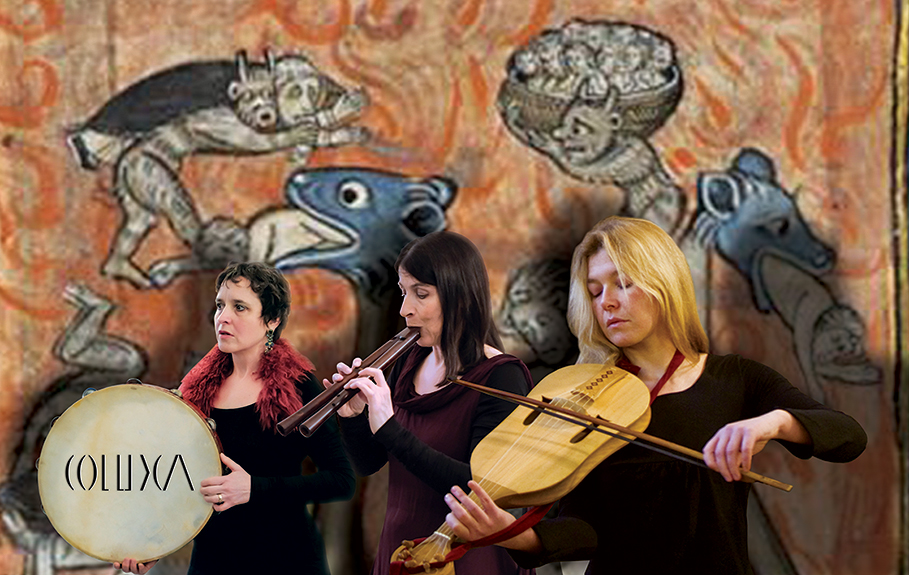 f.l.t.r: Cora Schmeiser – voice; Lucia Mense – recorder and traverse flute; Susanne Ansorg – fiddle, rebec and other stringed instruments.

• Protection against the unknown
'Flee fast and stay clear as long as you can!' was the pragmatic advice to protect oneself against the Black Death in medieval times. The fear of the unknown provided inspiration for fantastic ideas and itineraries, like the ones we read in Umberto Eco's books. These times were also marked by lie and deceit.
With the program 'Ich spür ain tier' (I sense a beast), the new German ensemble COLUSCA bridges the gap between the emotional conditions of the Middle Ages and the mindset during the current pandemic. Reflecting on central themes like Deceit, Fear, Fortune, Destiny, Remedy and Beautiful World, they perform music by van Veldeke, Anna von Köln, de Sisteron, Hildegard von Bingen and from various medieval manuscripts (Llibre Vermell, Codex Paris BN Fr. 844, and others).
Heinric van Veldeke: Tristan muose sunder sînen danc
Albertet de Sisteron: Belle m'eis la veis altana
Recording of COLUSCA's performance in August 2020 during the festival "Wunderhören" in Worms, Germany.
The three COLUSCA-members are fascinated by the "verdigris from the Middle Ages". By rubbing it off, they manage to expose concealed musical treasures. The trio treats the patina with voice, flute and fiddle, and brings into the light texts that appear almost dadaistic. This way, the three experts on early European music succeed to keep their interpretations fresh and up to date. COLUSCA made its debut in August 2020 on the "Wunderhören"-festival in Worms, Germany.
COLUSCA features Rotterdam resident Cora Schmeiser, who matches contemporary songs and sound poetry with songs and poetry from the past; Lucia Mense (Cologne) - recorder and traverse flute - who performs repertory from all times and improvises on that rich material; and Susanne Ansorg (Dresden), who plays all over the world on fiddle, rebec and other instruments, who also contributes to the research into medieval stringed instruments, and serves as the artistic leader of the Montalbâne-festival. The trio met for concerts of the Frauenschola Ars Choralis Coeln, which performed previously in the concertseries 'Echoes from the Middle Ages' in Rotterdam.